Tippah athletes shine as North all stars win, Lane Elliott takes home MVP
If you watched Tippah County football this season and knew the players selected to compete in the NEMFCA All Star game, held at NEMCC on May 15th, you would have been sure of one thing: they were going to contribute in a big way.
The four seniors suiting up for the last time using their high school helmets did not disappoint.
Lane Elliott, Khris Perry, Kevin Hurley and Jey Johnson all were major parts of the North Squads 28-25 victory over the South on Wednesday night in Booneville.
Hurley was a menace scrambling from his QB position, extending plays with his big frame and mobility from the pocket. He connected with Brendan Fields of North Pontotoc for a 3rd quarter touchdown.
Jey Johnson made several big plays from his cornerback position, defending the pass and laying bone crushing hits including one for loss. He played nearly every snap on defense.
Khris Perry, to noones surprise, played all over the field. He was the first man down in special teams coverage and picked up a huge tackle and forced fumble to give his team great field position.
And Falkner's Elliott was named the games MVP with a standout performance that had coaches and media raving about him on the sideline. He completed a pair of first half touchdowns to give his team a lead and didn't get to air it out much in the second half as the North's coaching staff went to the ground attack to preserve the lead and ultimately the victory.
More pictures from the NEMFCA on Facebook and Instagram.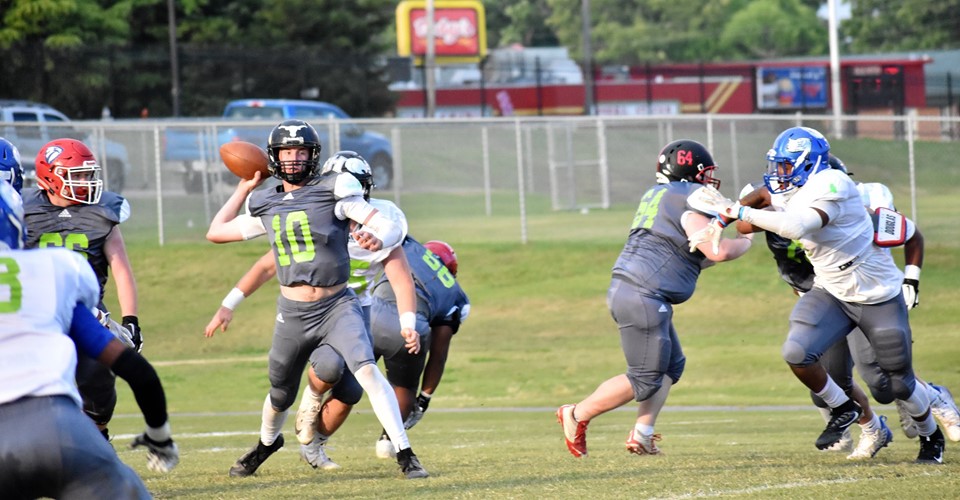 Falkner QB Lane Elliott was the MVP. Pic-Larry Glidewell