Win or go home: Playoffs begin tonight for Ripley Lady Tigers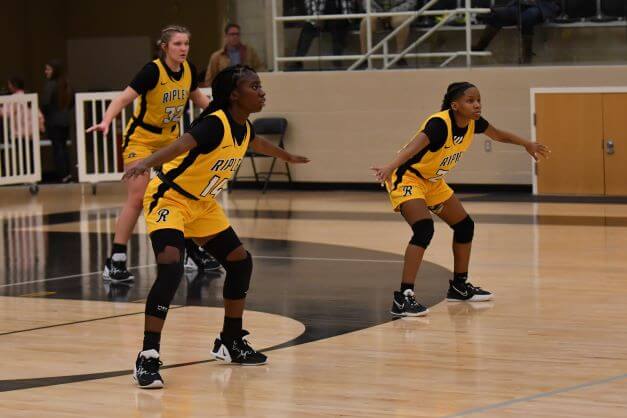 SOUTH PONTOTOC–In all sports, there are seasons within the season–preseason, regular season and postseason. All the games are important in one way or another. But the postseason is when it counts the most.
Mississippi high school basketball is now in its final act as regional basketball tournaments kicked off this week. From this point forward, teams will do their best to keep their season alive as long as possible, with hopes of being the last team standing when they begin to hand out Gold Balls.
As regional tournament play begins, teams who finished in one of the top three spots during the regular season are guaranteed to play at least one game in the upcoming 2023 MHSAA State Basketball Championships, which begin Monday, Feb. 13. But for those who finished No. 4 or lower during the regular season, the high-stakes game of "win or go home" starts now.
And that's the case for the No. 4 seeded Ripley Lady Tigers (10-14) when they square off against the No. 5 seeded Houston Lady Hilltoppers (11-14) tonight at 7 p.m. in the first round of the 2-4A Regional Basketball Tournament at South Pontotoc.
"Our backs are against the wall, Tuesday night. It's win or go home," said second-year Ripley head coach Chad Brown. "But I know what kind of team we can be. I see it in practice every day. They've just got to play with confidence, and we did that against Lafayette."
Confidence builder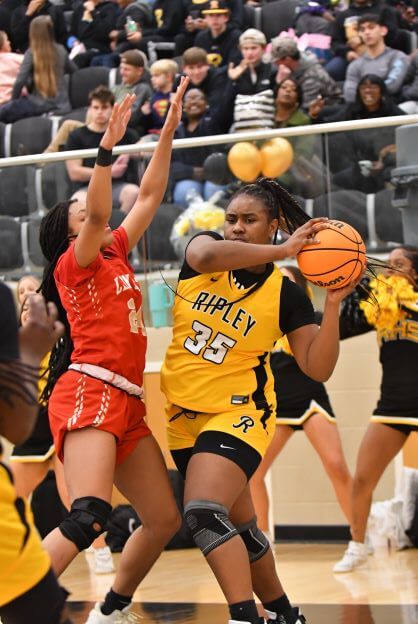 Speaking of that confidence, the Lady Tigers enter tonight's game with a ton of momentum, having pulled one of the biggest upsets of the season last Friday night against that Lafayette team Brown mentioned.
Led by senior point guard Paris Morgan, junior post player Alorian Story and gutsy performances by the rest of the Lady Tigers, Ripley defeated the Class 5A Lady Commodores. A team who entered the game at 19-5 on the season, undefeated in 2-5A play and a favorite to make it to the Big House.
It was the best performance of the season for the Lady Tigers. Morgan had her best night of the year, scoring 24 points, including Ripley's final eight of the game and the game-winner with 11.2 seconds to play.
"I told her to attack the basket. Don't settle for a jump shot. Attack the rim and make them stop you. And she (Morgan) did exactly what I wanted her to do," said Brown on Morgan's game-deciding basket. "She didn't hesitate. She attacked, and that's exactly what seniors are supposed to do."
Story also turned in a signature night, erupting for eight of her 11 second-half points in the third quarter, cutting a 6-point Lafayette lead at the break to just a bucket by the start of the final quarter. The six-footer finished with 16 points.
"She (Story) got a spark in the third quarter. And when she gets that spark, there are not many players who can stop her," Brown added.
The Lady Tigers had just enough confidence to close the deal. And Brown believes the effort could play huge dividends this week.
"We wanted to be playing the best basketball we can going into this week and beating a solid well-coached team like Lafayette just shows you what we can do when we put it all together and everybody does their job and everybody buys into what you want them to do," added Brown.
Looking past the surface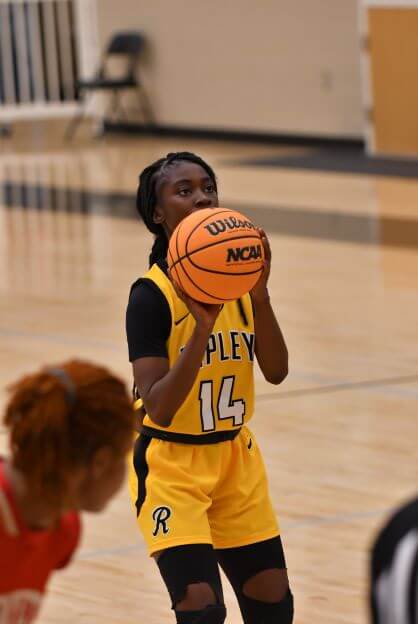 Looking at the Lady Tigers' record of 10-14, a deep playoff run doesn't look very promising. But that's the great thing about the playoffs. Regular season records can be thrown out the window. Now it's about which team can put it together and have more points than the opponent by the final buzzer.
The Lady Tigers split with the Lady Hilltoppers this season. Ripley squeaked out a 65-63 home win on Jan. 20. Eight days later, Houston won 60-41 at their place. That Houston win looks bad at face value, but a deeper look changes the perspective. The night before playing Houston, Ripley overcame a 10-point deficit to rival, New Albany, and won an emotional thriller in overtime. Houston was scheduled for the next day, and unlike most regular season games, the tipoff was at 12:30 pm. An emotional win plus an early start the very next day combined with an odd start time would easily throw any team off.
The Lady Tigers can also consider the number of close losses they've had. Of their 14 losses on the season, 13 were by six points or less. In games like those, a break here or there makes a huge difference in being 10-14 or 14-10.
There is nothing easy about the playoffs. Games will get tougher the further a tram advances. And that's just fine for Brown who believes his Lady Tigers have just as good of a chance as all the teams remaining in the playoffs. And he says if players like Morgan and Story bring the same intensity and leadership they played with against New Albany and most recently Lafayette, the sky is the limit.
"After the game, I told them, 'If you play like that, you defend like that, you shoot like that, this week is going to be a fun week," Brown said.
If the Lady Tigers continue to play like that, it could be fun for weeks.