HIGH SCHOOL FOOTBALL: Cardiac Tigers, Wildcats roll and Eagles fall to Patriots
CALHOUN CITY–The Ripley Tigers put another late-game comeback win under their belts on Friday.
On the road, against 2A power Calhoun City, the Tigers got a 2-yard TD pass from Tristian Vandiver to Jey Johnson with :15 seconds to play to tie the game at 6-6. Edward Tabora nailed the extra point and the defense held on for the Wildcats' final two plays for the 7-6 victory. Ripley improved to 2-1 on the season.
Ripley coach Sam Hathorn said the win was big for a team with upperclassmen like Vandiver and Johnson along with a few underclassmen who have been called on to contribute.
"It was a huge win for our team and huge for Tristian and Jey to make that play," said Ripley coach Sam Hathorn. "I think our entire team is improving as a whole, but we had some younger guys step up and play huge. We started two sophomores on the offensive line in Caleb Leatherwood and Lynden Drewrey. Sophomore Sentavious Hunt has done a solid job at safety."
Trailing 6-0, with time winding down in the fourth, Ripley defensive tackle, Tino Rainer, forced a Wildcats' fumble, recovered by Landis Penro, setting up the game-changing drive. Last week, with Ripley trailing late against Kossuth, the Tigers' defense forced a turnover on downs before their final scoring drive.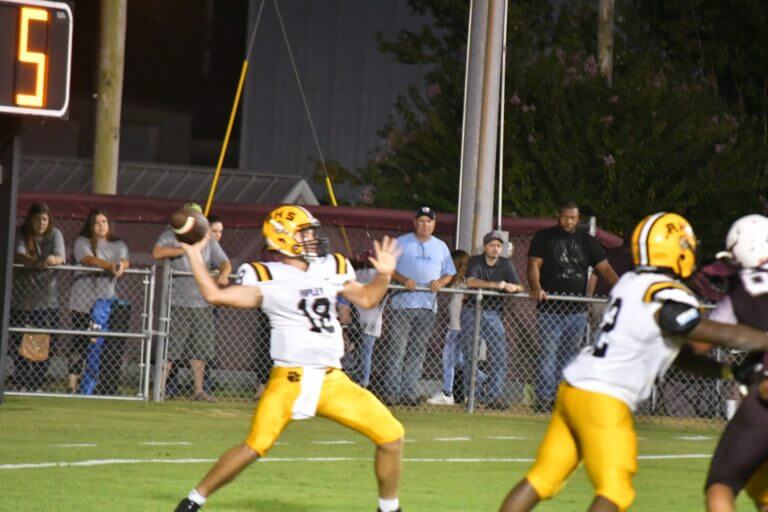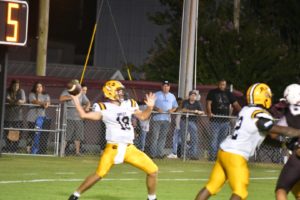 "Our defense has done an awesome job the past two week," added Hathorn. "Coach Rico, Coach Reno, Coach Pittman and Coach Wooley have gotten those kids ready to play each week. Really proud of how they have done."
What's Next:
The Tigers (2-1) will host Louisville (2-1) on Friday, Sept. 7. Kickoff is set for 7 p.m.
Wildcats roll past Byers
The Walnut Wildcats got back on the winning track with a dominating 52-8 road win over H.W. Byers.
The Wildcats (2-1) scored seven touchdowns over all three phases of the game, offense, defense and special teams. Tailback Kris Perry had a rushing touchdown and a 80-yard kick return for a score. Fellow running back TJ Lewellen scored from 38 and 11 yards out. Quarterback Kevin Hurley tossed a 1-yard TD pass, while Owen Hopper had a 4-yard TD run and Tyler Russell recovered a fumble for a score.
What's Next:
The Wildcats will look to make it two wins in a row when they travel to Middleton (TN) on Friday, Sept. 7.
Patriots too much for Eagles
The Falkner Eagles couldn't contain Marshall Academy junior running back Phillip Parks, who rushed for 220 yards and three scores in the first half alone.
Parks added a fourth score in the second half, as the Patriots left Falkner with a 48-22 win.
Falkner QB Lane Elliott finished the night 16 of 27 for 237 yards, three touchdowns and three interceptions. He tossed a 50-yard TD pass to Chauncey Jackson. TJ Colom had 10 grabs for 123 yards and two scores.
What's Next:
The Eagles (1-2) open Division 1-1A play at Potts Camp on Friday, Sept. 7