KEDRICK STOREY: The 1992 Ripley Tigers football team will be honored tonight and it brought back some sweet and bitter memories for this sports writer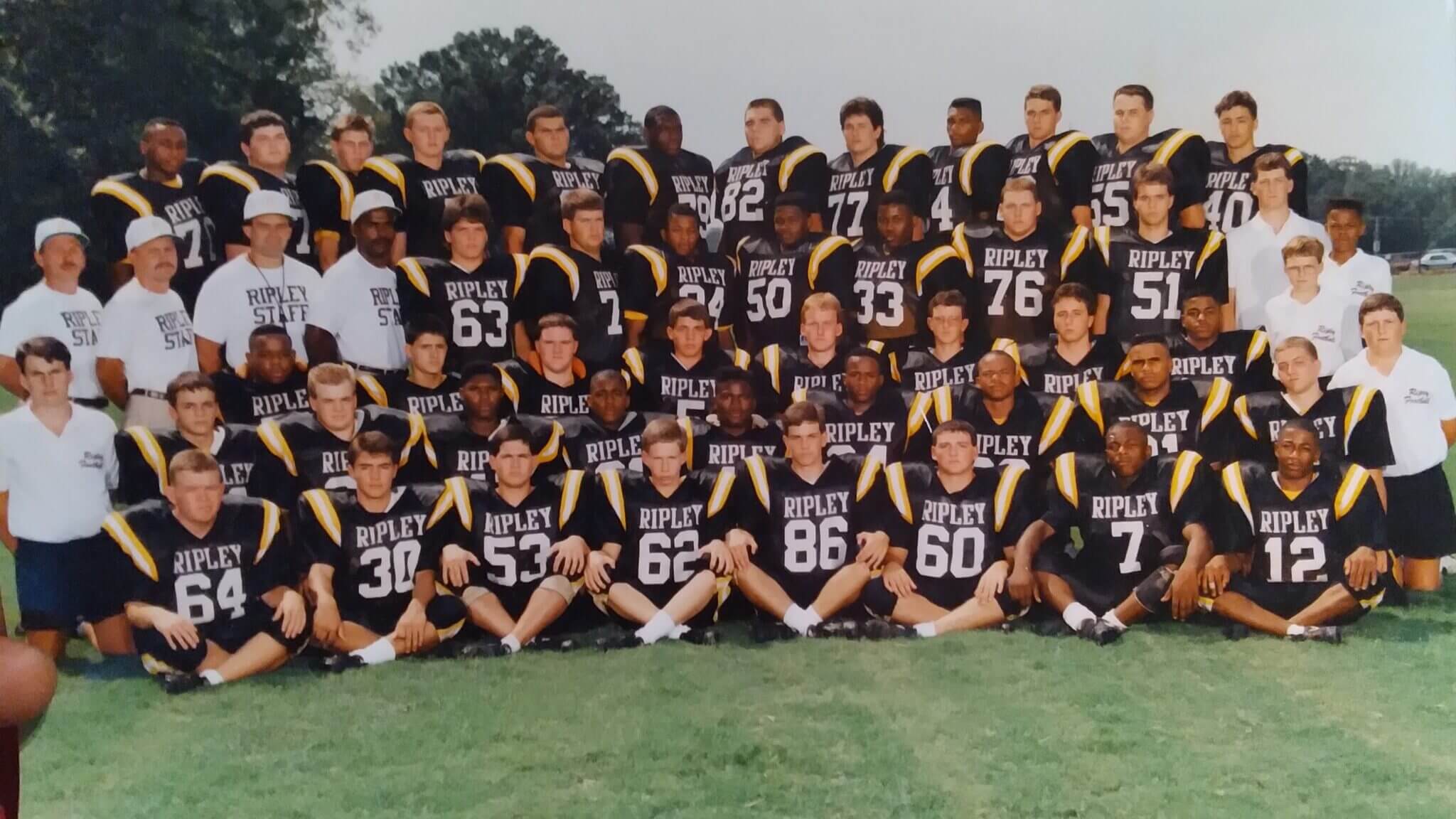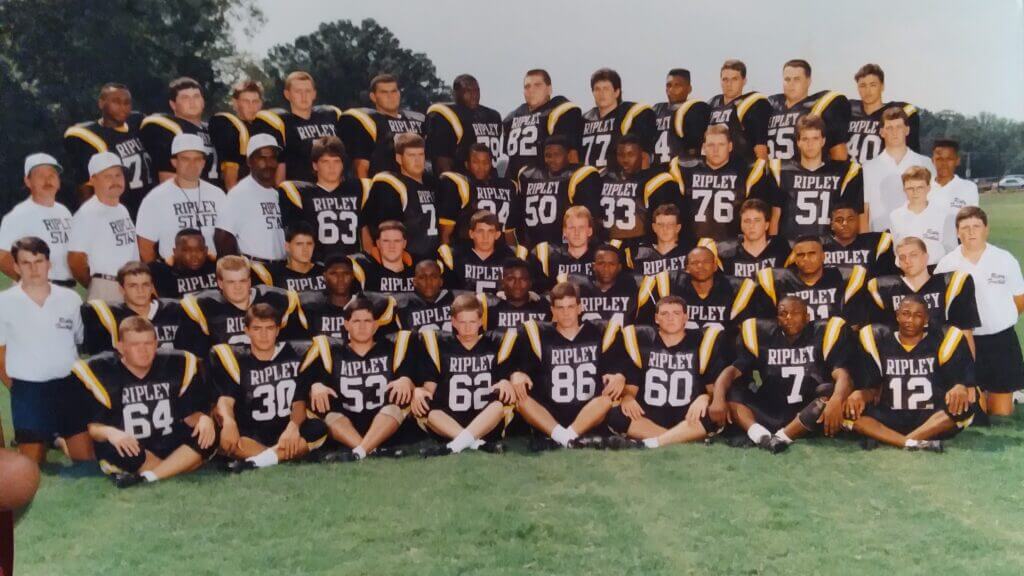 The 1992 Ripley High School football team will be honored tonight before the kickoff of the "Highway 15 Rivalry" between New Albany and Ripley. I was on that team. My contributions included being a good practice player during the week and a decent special teams player on Friday nights. I would get in a few plays at strong safety from time to time and even some snaps at quarterback in blowout games.
That was a good team. It was really good. I'm biased, of course, but I believe that's the best collection of talent on a Ripley Tiger team in history. Kinda like a sum of all parts kind of team. A stable of running backs in Derrick McDonald, Ryan Girley, Robert Cook, and Chris Turner A solid offensive and defensive line of Joe Colyer, Lee Jay Grisham, O'Neal Jackson, Drumico Rutherford, and tight end Joey Bryant. Jason Scott at quarterback, and wide receivers Raymond "Bud" Luster, Spencer Holley, Jay Jackson, Shane Roberson, Joey Bullock, and Ronnie McCafferty. With coaches Lynn McGee, my dad, James Storey, Ricky Hamilton and Vince Jordan. And there were many other players who made up the roster. It was a great bunch of guys to play ball with.
And it was good on both sides of the ball. The 1992 offense averaged 31.2 points per game with game-highs of 73, 61, and 44 points. And as potent as the offense was, the defense was just as stingy, allowing 63 points over 13 games. That's an average of 4.8 points per contest. The only regular season loss: 8-6 to Pontotoc. Only playoff loss: 10-3 to Pontotoc in the North Half Championship game to finish the season at 11-2. (that one is still tough to think about. Keep reading to find out why)
Earlier today, former Ripley Football and Delta State University Football standout and Hall Of Famer Rico McDonald joined Jon Myers and me for our Mississippi Sports Report podcast. At one point we talked about the memories you make while playing high school football.
I have plenty of memories from that season. And I thought about some this week in the run-up to tonight. It's funny the things that you recall when you put your mind to it. Here's a small list:
I always get it confused, but either Joe Colyer or O'Neal Jackson could never be trapped on the defensive line. I want to say it was O'Neal. When I say "trapped," I'm talking about blocked on a trap play. Jackson would be lined up at defensive tackle. The offensive lineman in front of him wouldn't engage him at the snap of the ball, but rather he would go down the line. Jackson always knew another lineman was coming to block him followed by the running back with the ball. Teams tried it over and over. Jackson stopped it over and over. I don't think Coach McGee ever ran a trap run play in practice against the first-team defense. It would have been a waste of time.
And then there was the time Rodrick Rogan, who passed away a few years ago, was playing defensive back and attempted to make a tackle in the Independence game. They were pretty good. We squeaked that one out 14-7. But anyway, they had the biggest running back we faced all year. He was like 6-4, 250. Like a linemen but fast. He broke one into the secondary late in the game. Only thing standing between him and the end zone was Rogan, who we called "Moe Joe." Moe made the stop but he got folded up like a chair. If you've ever seen a car hit one of those orange pylons…that's what it looked like. But he made the stop. Watching the film on Monday was hilarious. As you would expect, that play was shown over and over a few times.
And the hardest I've ever seen a player tackled happened in the playoff game against Rosedale. I-Pro Right 46 Power. In laymen's terms, a handoff to the tailback, going right. Well, Robert Cook was the tailback on that play. The ball is snapped. Perfect handoff and about that time the Rosedale safety, who had to read the play from the snap, comes untouched and hits Cook so hard I honestly thought he killed him.
Cook's feet were off the ground and his head hit the ground first. He was a vicious hit. It was violent. It was Madden Hit Stick before Madden Hit Stick. The defender just ran straight through him. I felt so bad for Robert. He got up, which was amazing. But then he started walking towards the Rosedale sideline. Someone immediately said, "Get him out of there…!" Cook walked to the sideline like "Did anyone get the license plate of the car that just hit me." Once we knew he was OK, the laughter lasted a while. The pop-culture hit movie "Friday" was several years from being made, but all that play needed was Smokey (Chris Tucker) running onto the field to do his famous line "YOU JUST GOT KNOCKED THA F**K OUT!!!" And yep, that was another play that we just had to look at over and over again on film day.
That was also a huge win. We beat Rosedale on the road 31-8. It was a little get back from when Rosedale defeated a state-champion-worthy 1981 team. A team with a gang of studs like athlete Daryl Rogers, quarterback Skip Benson and running backs Ken McDonald and Ricky "Honda" Johnson. Ripley (11-0) went to Rosedale to play for the North Half Title and a trip to the state championship game. The Tigers came up on the short end of an epic battle, 28-21. At that time I was just a kid playing football near the stands. I didn't understand how tough the loss was, but my dad was pretty down about it. That was a great team. The only team I think could have beaten the 1992 team. EMPHASIS: "Could have" as in they wouldn't, I don't believe. (Can't wait to hear from someone on that team that reads this. LOL.)
Fast forwarding back to 1992, it was also great to beat Rosedale because it set up a rematch with Pontotoc for all the North Half marbles. But the bad thing about that win to advance was a late cheap shot to the knee of defensive end Joey Byrant. He was out for the rest of the season. And he was a huge part of that defensive line.
And that brings me to my final memory, that North Half Title game at Pontotoc.
After losing 8-6 to the Warriors in Week 3, everyone in northeast Mississippi knew the two teams would meet again in the playoffs. We knew it. Pontotoc knew it. If you asked random people on the street, they knew it too. And the collusion course came to a head the Friday night after Thanksgiving. Black Friday. In Pontotoc. I remember I had to work at "Griffin's Supermarket," where the Ripley Market is now. I was a stocker. 8-12 shift. I hated I had to go to work. And all I did was think about the game. When noon hit, I was ready to play right then. I wasn't gonna get a lot of snaps, but we wanted to beat the Warriors so bad. We knew we were the better team.
It was called "The Game of the Century" by the Daily Journal. I've heard different numbers on the attendance, but an estimated 5,000 people turned out to watch two of the best teams in Class 3A. At that time, the largest attendance in history. Might still be a record. I still remember the pre-game speech by Coach McGee. He talked about "resolve," and he referenced a Civil War battle, where the Union Troops were getting destroyed by the South Troops. But the North never gave up. Some with bullet holes just kept coming and eventually won that battle. It was an epic speech. Total silence. And Joey Bryant was standing there on crutches. Tears flowed because he couldn't play. Some of the other players cried as well. If I remember correctly, Coach McGee ended the speech by saying something like "Now let's go out there and kick their A**!" And we went bonkers!
The game began. Big hits. Great defensive stops. The crowd lived and died on every play.
I may have the order of plays wrong but I believed the score was tied at 3-3 late in the third quarter or early in the fourth. Just like our offense, Pontotoc had found no success moving the ball. They went into their bag and pulled out a trick play. Reverse-option pass. The Warriors' QB ran an option and pitched it Gerald Roberson. The aggressive defense bit on the play as Roberson faked as if he was going to run only to drop back and loft a pass to Cameron Floyd, streaking down the sideline.
Floyd caught it in stride and scored the only TD of the game. I mentioned it today on the podcast. I will never forget how the Pontotoc side of the field erupted. It looked like they were doing the wave as Floyd raced downfield. The sound of the Pontotoc Band playing their fight song along with the screams of elation was deafening. Seeing every Pontotoc fan in attendance doing the "Chomp," made me want to throw up. I didn't think the song would ever end.
A huge blow to our chances, but we never gave up, Kept battling, and found ourselves with the ball deep in Pontotoc territory with seconds remaining. Trailing 0-3, Jason Scott dropped back to hit Spencer Holley in the corner of the end zone. It was our final play. Everyone said he got his foot in before going out of bounds except for the one person whose opinion mattered the most at that time: the back judge. Coaches from south 3A teams who were there to scout stood in the back of that end. And even they said Holley's foot was in. I don't know who the ref was, but if I saw him today, I would punch him in the face. (I'm kidding…but I would seriously consider it.)
I was devasted. On the bus, I cried all the way back to Ripley. Once we got back to Ripley, I cried on the ride home with my dad and Ryan Girley. I cried myself to sleep. All at once, the magical season was over. And to end it that way was like a gut punch over and over and over again.
The way that season ended absolutely sucked. But my gosh what great memories. As Coach McDonald said today, it's not the actual football between the lines that you miss the most. It's the memories.
I'm hoping this Ripley Tigers team, now 30 years later, will keep making memories like that. And maybe add a couple more, some that involve gold footballs.