Tigers' defense flexes second-half muscle in road win over Charleston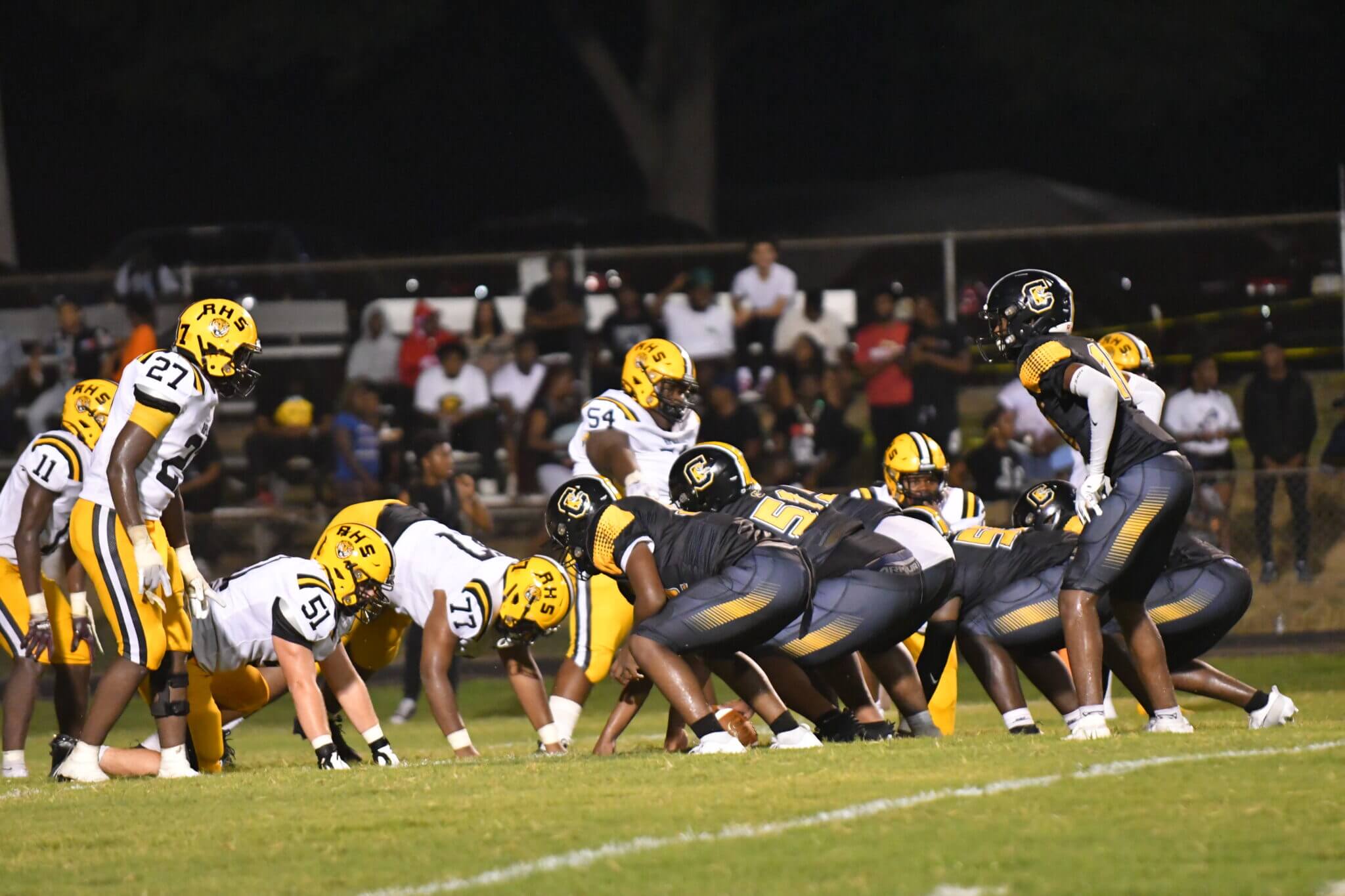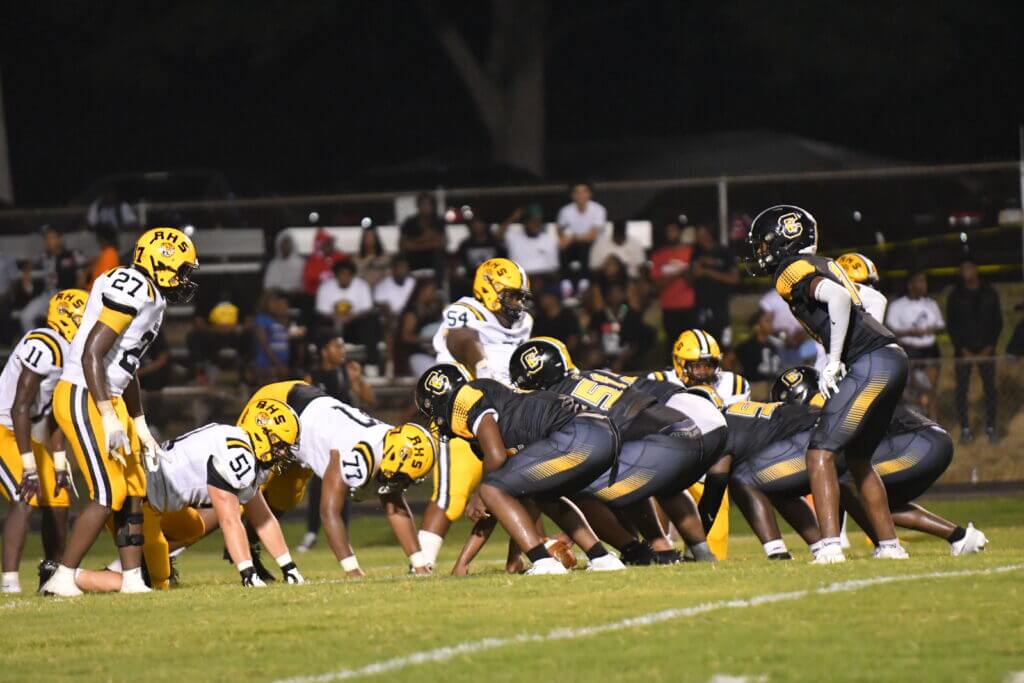 CHARLESTON–The only thing hotter than the "Hell's front porch" playing and viewing conditions of Thursday's season opener between Ripley and Charleston was the second-half defense of the Ripley Tigers.
Trailing 16-13 at halftime, a stingy Ripley defense that allowed just 139 yards in the first half, came out even stinger. The visiting Tigers stopped Charleston twice on fourth down, both deep in their own territory. After the second stop, the Ripley offense drove 69 yards for the go-ahead touchdown, an 11-yard TD run by Keegan Strong. Holding its first lead since the second quarter, the Ripley defense flexed its muscle one final time, stopping Charleston on a 4th-and-1 situation at the 7-yard line for the 20-16 victory.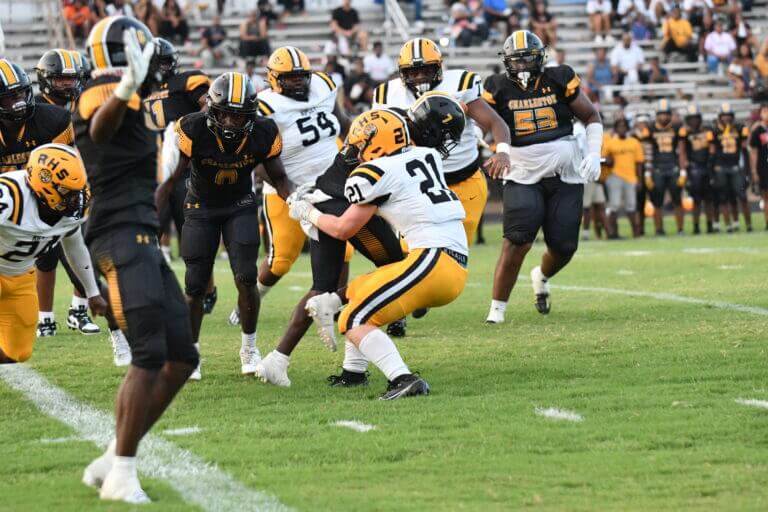 "Our kids just came out in the second half and left it all out there," said Ripley defensive coordinator Chad White. "And what about those three fourth-down stands…Just what can you say about our kids? Great, fantastic effort. Just so proud of them."
One of the players helping to make those stops was senior defensive Anthony Bell. He said they had to keep doing the same thing the veteran group has done for years–dig in and bow up.
"We know we're small, but we're a bunch of dogs out there. We just had to keep fighting and playing for our offense," said Bell.
First-half letdown
Ripley (1-0) got on the board first with a 38-yard FG from senior kicker Freddie Lopez with 54 seconds to play in the opening quarter. Ripley's defense set up that score when senior LB Cooper Davis forced a fumble with a hit on a scrambling Charleston sophomore QB Devon Olive. Junior tackle Carmello Thomas jumped on the loose ball at Charleston's 26-yard line.
Ripley pushed the lead to 10-0 on the first play of the second quarter. From their own 37-yard line, junior QB Jack Reid hit senior WR Michael Turner on a hitch route. Turner made one man miss and took it the rest of the way for a 63-yard score with 11:34 to play until halftime.
But no lead is ever enough against a team with speed like Charleston. The 2A power has used that speed to win multiple state titles in the last 11 seasons. And that speed showed as sophomore RB Marcus Flower found daylight and jetted down the Charleston sideline for a 50-yard TD run less than a minute later. A two-point run made it 10-8.
With 3:49 to play, Ripley got a 49-yard FG from Lopez, which set the record for the longest field goal in Ripley Football history for a 13-8 advantage. But that celebration was short-lived, as Charleston wasted little time in responding. The home team got a 46-yard pass from Olive to senior WR Deondre Riley. Four plays later, Flowers capped the drive with a 1-yard run. A two-point conversation later, Charleston led 16-13, a lead they took to the locker room.
Inside Ripley's locker room at the break, Ripley defensive coordinator Chad White said his blood pressure "got a little high," about how the half ended for his bunch.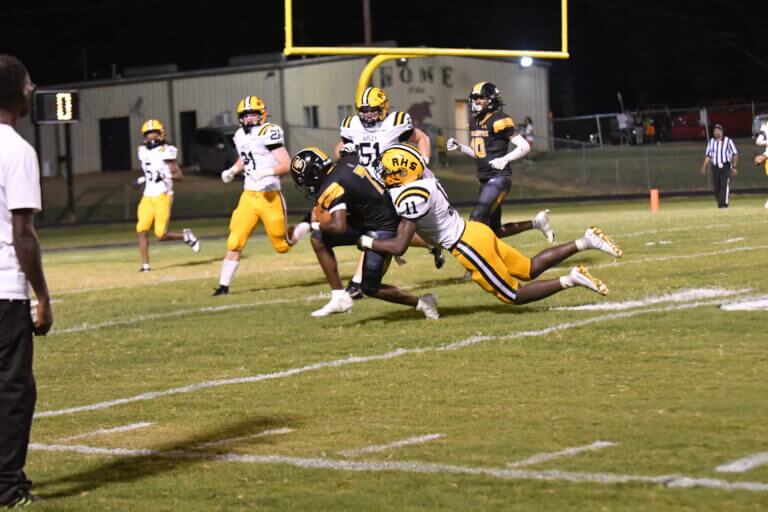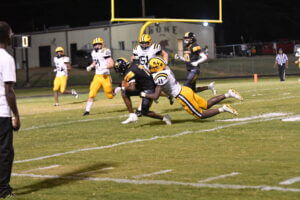 "We were in OK positions at times in the first half, but on those two drives, we just weren't exactly where we needed to be. I think we got up 10-0 and had played hard at that point. And we kind of had a little bit of a letdown," said White. "But you can't take anything away from Charleston (0-1). They are a really good football team. They always have been. And when you take your foot off the gas against them, they'll come back like they did."
Recharged second half
As for the major uptick in the second-half intensity, White said the effort on those stops, particularly the final stop at the 7-yard line, is what it takes to win games like that. White noted that the play was a great team effort across the board, but he pointed out the combination of Thomas and fellow defensive tackle Charles Jackson, Jr. "blowing the center back into the quarterback" and Davis, "stepping up into the gap" as examples of keys that made that play happen. Davis is adjusting to the move from defensive end to middle linebacker.
"It was really good to see those kids progress that way. I just can't say enough about all our kids on defense. I could name all of them," added White. "Just so many of them did a great job."
Ripley will play four of its next five games at home, including three in a row. They welcome the Kossuth Aggies to Tigers Stadium on Friday, Sept. 1.