UPSET ALERT: Tough division slate helps Walnut Lady Wildcats move on in Class 2A playoffs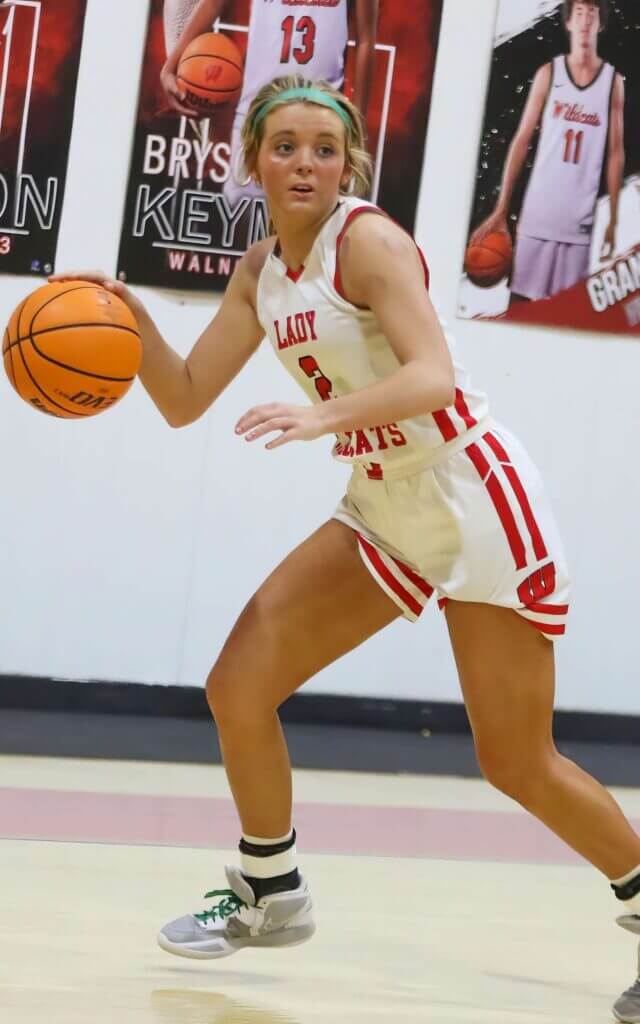 CAHOMA COUNTY–It may have been a surprise to the Cahoma County Lady Red Panthers, one of the eight Class 2A No. 1 seeds in this year's MHSAA basketball playoffs, but it wasn't to Walnut girls basketball head coach Jackie Vuncannon.
Monday, the No. 4-seeded Lady Wildcats took the 134-mile trip to Clarksdale and dismantled the top-seeded Lady Red Panthers, 76-39. With the win, No. 4-seeded Walnut advanced to the second round of the 2023 MHSAA Basketball Championships.
Vuncannon said the postseason road win was exciting, but playing a 1-2A Region loaded with heavyweights such as state-championship winning programs New Site and Belmont was a major factor. And all four 1-2A girls playoffs team advanced to the second round.
The Lady Wildcats had to win last week's opening 1-2A regional tournament game against East Union just to make the playoffs. They then fell to New Site and Baldwyn and entered this week a No. 4 seed.
"Anytime you win on the road in the playoffs it's considered big, but I feel like our division is the strongest in 2A by far," said Vuncannon.
Against Cahoma County, the Lady Wildcats sprinted to a 25-6 lead after one quarter. They took a 21-point lead into halftime and then held the Lady Red Panthers to just 15 total points in the second half.
Walnut high-school standout and Delta State Women's basketball signee MK Vuncannon kept to her state-leading scoring routine. The senior had a game-high 27 points to go along with five rebounds and 4 steals. Harley Garner chipped in with 10 points and dished out six assists. Madison Weeks also had to 10 points and pulled down eight rebounds.
A stingy Lady Panther's defense limited Cahoma County to 27 percent shooting from the field, while forcing 21 turnovers.
Moving on
The Lday Wildcats (16-14) will have to hit the road again in round two. However they will play a familiar foe in the Potts Camp Lady Rebels. Tipoff is set for 6 p.m.
UPDATED Full Class 2A Girls Bracket
In early January, Walnut defated Potts Camp 80-79. And they did it without Vuncannon, who was out due to an injured knee suffered during the Tippah County Tournament.
Head coach Jackie Vuncannon said what the regular season outcome doesn't matter at this point as all teams from this point forward will be a tough challenge.
"The fact taht we have already played them doesn't factor into it because in the post season, all teams have a different mentality," she said.