Kedrick Storey: "What about Ripley?"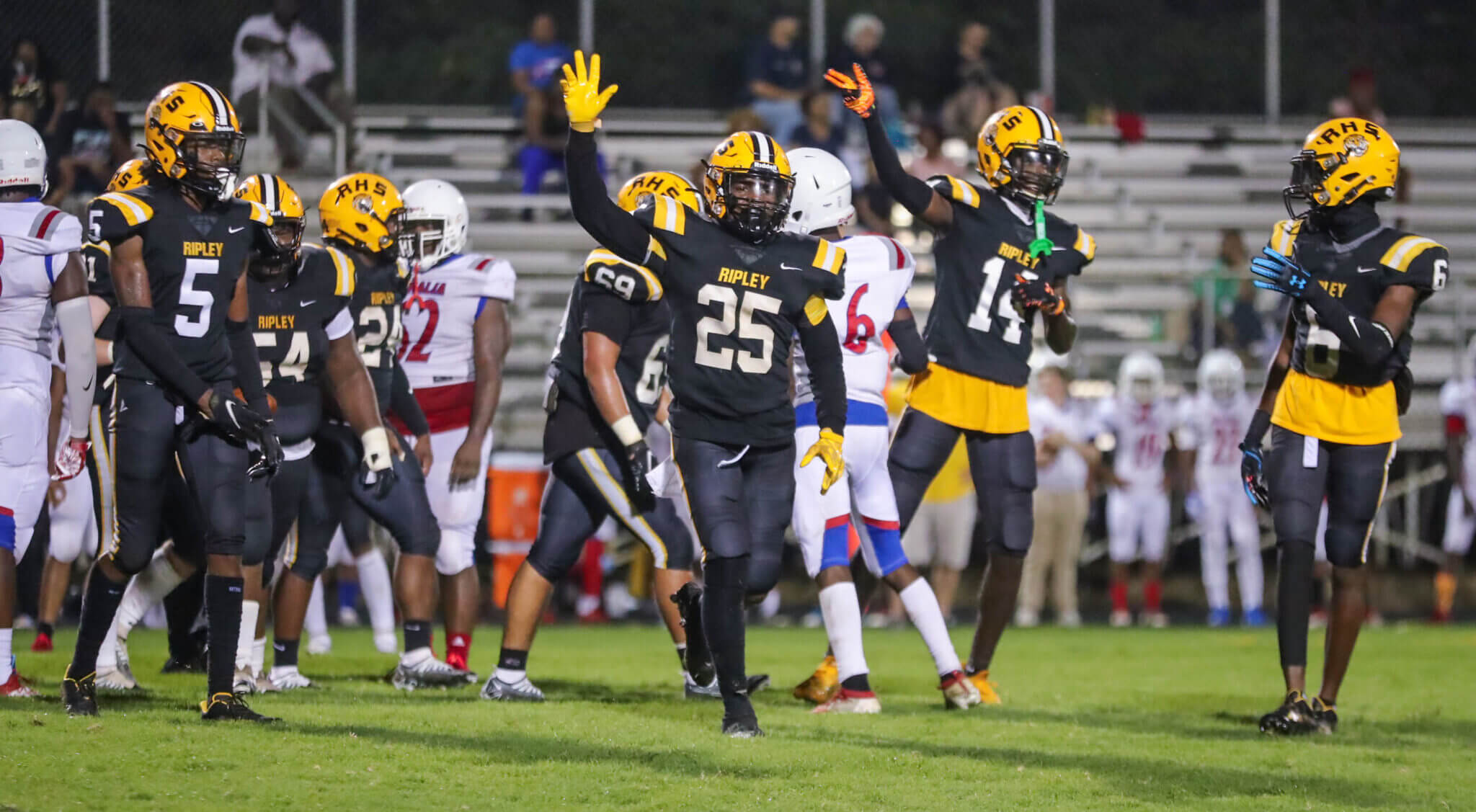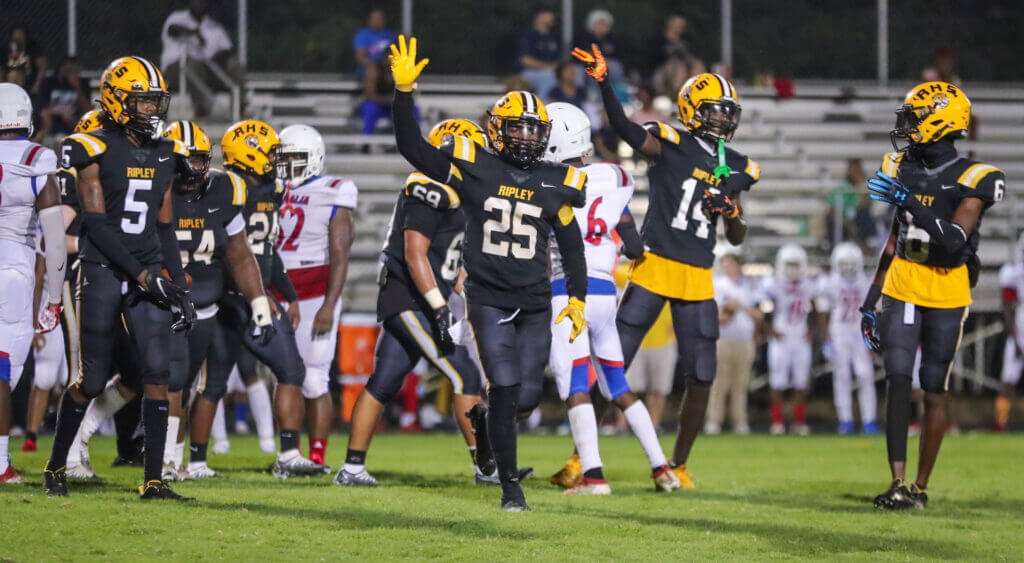 RIPLEY–The number one concern, question, comment, or topic of conversation I've heard since the Mississippi high school football season began just over two weeks ago has been "What about Ripley?" in some way, shape or form.
"What about Ripley?" is a simple way of three bigger/deeper questions:
1) Is Ripley Football as good as preseason expectations based on a 9-3 record in 2021 and the experience that returns from that playoff team. Ripley head coach Perry Liles considers any player listed as the No. 1 or No. 2, a starter. So in that case, the Tigers coaching staff had to only fill two positions, both on the offensive line.
3) Yeah…I know Ripley is 2-0 to start the season, and they're averaging 60 points a game…but look who they played. They should win those games, right?
3) And finally, can Ripley win a state title?
So let me address those questions and give you some advice on how to embrace this season.
In my sports opinion, which is just that, an OPINION, I believe this is a year where Ripley has a great combination of what a team needs to have a very successful year: experienced talent in all three phases of the game–offense, defense, and special teams, a quality coaching staff, and a winning culture. I asked a member of the coaching staff about that and he agreed that he'd never been around a collective group such as this.
And first things first, Ripley did easily handle to teams of lesser talent to start the year. But that's what good teams do to teams with lesser talent–they leave NO DOUBT. If Ripley had struggled to score or been in a close ball game late in either game, I promise you I would not have wasted my time writing this.
Skilled offense
As I told you earlier, Ripley is experienced across the board in all phases. Offensive returners to the front line are senior Robert Allen, junior Ethan Crook and sophomore Camdyn Selmon. And the Tigers feature a plethora of options at the skilled positions. Running backs include seniors A'Quan McDonald, Keegan Colyer and Tyler Rucker; juniors CJ Martin, Keegan Strong, Deshun Boyd, and Demarion Williams and sophomores Jaylen Brooks and Adin Wilson.
The coaches trust all nine players to be able to perform when their name is called. Of that bunch, McDonald, Martin, Boyd, Williams and Brooks have scores on the season.
The Tigers are also blessed to have several capable pass-catchers in seniors Jaki Holmes and Jabez Johnson and juniors Michael Turner and Cooper Davis. Turner hauled in a pair of touchdowns in Ripley's 56-6 win over Holly Springs. Davis caught the first TD pass of the year in their 66-0 thumping of Byhalia. Ripley also includes the backfield in pass routes. Martin, Wilson and Strong have all recorded at least on catch on the year.
And under center, junior QB Ty Long touches the ball every snap. Ripley head coach Perry Liles calls him a "leader" that "the players listen to." That leadership and calm demeanor under pressure is a huge asset. Long, who's also the ace for Ripley Baseball hasn't had to throw it much, but he's been consistent when putting it in the air.
Turnover Machine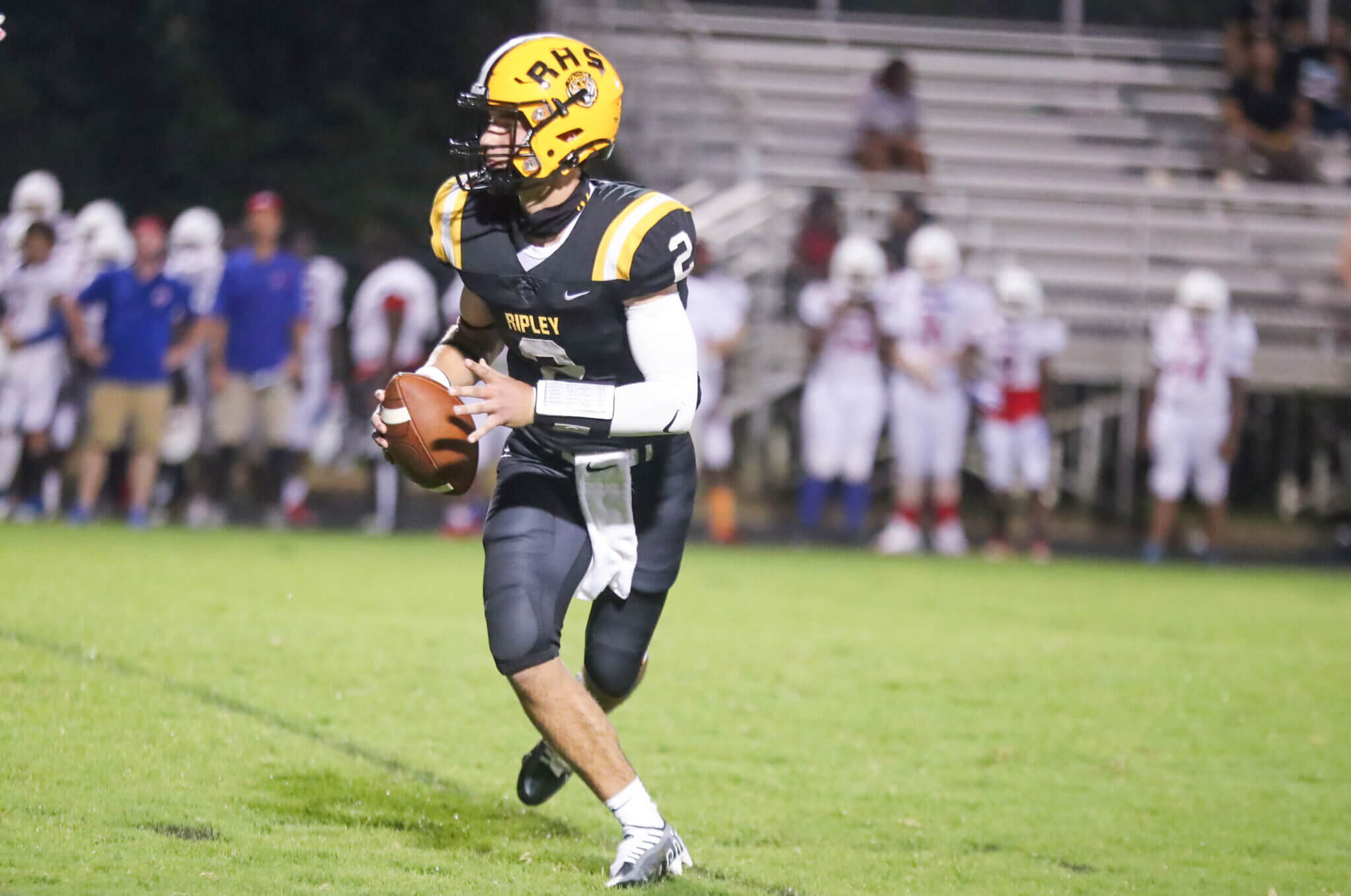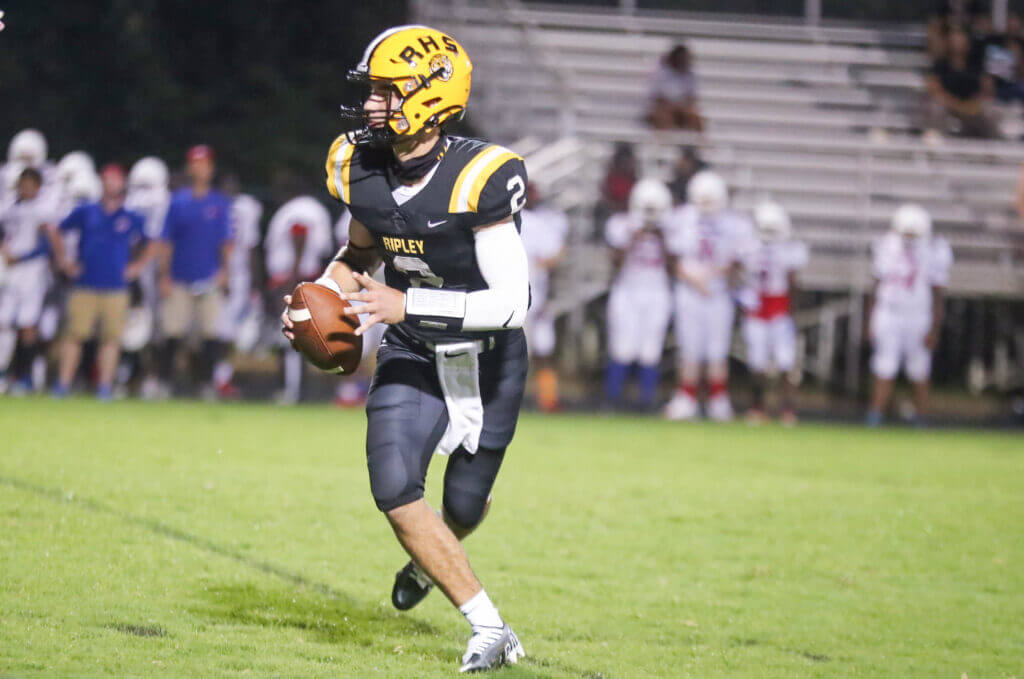 The offense features a large collection of talent to score points, the sexy part of football games. But the group that will be charged with keeping points off the board could be considered a little more dangerous. And defenses win championships, right?
Before the season began, Liles has said that the defense would be the Tigers' calling as the offense caught up. And I wholeheartedly agree. The Tiger's base 4-3 defense with returning experience at every position, including several of the above-named players is what sports people call "salty." I don't exactly know what the terminology means, but I do know that being "salty" is a good thing when it comes to football.
Davis is at the defensive end position, while Brooks, Colyer, and McDonald are the linebackers. Brooks reeled off a 76-yard fumble return for a TD last week in Holly Springs. Taking care of the back end of the defense is Rucker, Martin, Holmes, and Turner, who has three INTs, including one pick-6.
Three solid thumpers join them on the defensive line in tackles Charlie Coombs, and Charles Christmas, along with defensive end Anthony Bell.
Of the 27 total possessions Ripley's defense has faced, the Tigers forced 12 turnovers, scoring four times. Ripley defensive coach Chad White credits the talent on the field for that success, but the scheme put together by White and the rest of the staff and player development has gone just as far in making good things happen.
A Special Leg
When it comes to the sometimes forgotten and arguably most important part of a team when it comes to high school football, aka Special Teams, the leg of junior kicker Freddie Lopez gives Ripley an advantage that most teams don't. He's basically automatic on extra points. And where most teams have to choose between punting or going for it on a stalled drive at the 30-yard line, Lopez gives them the option to get points. It's a no-brainer for Liles to run Lopez out from 42-yards out. He's also confident at 47-yards. And he might consider a 52-yarder as Lopez has nailed one in practice, according to Davis. And to put the previous sentences into perspective, Lopez is already on the radar of Mississippi State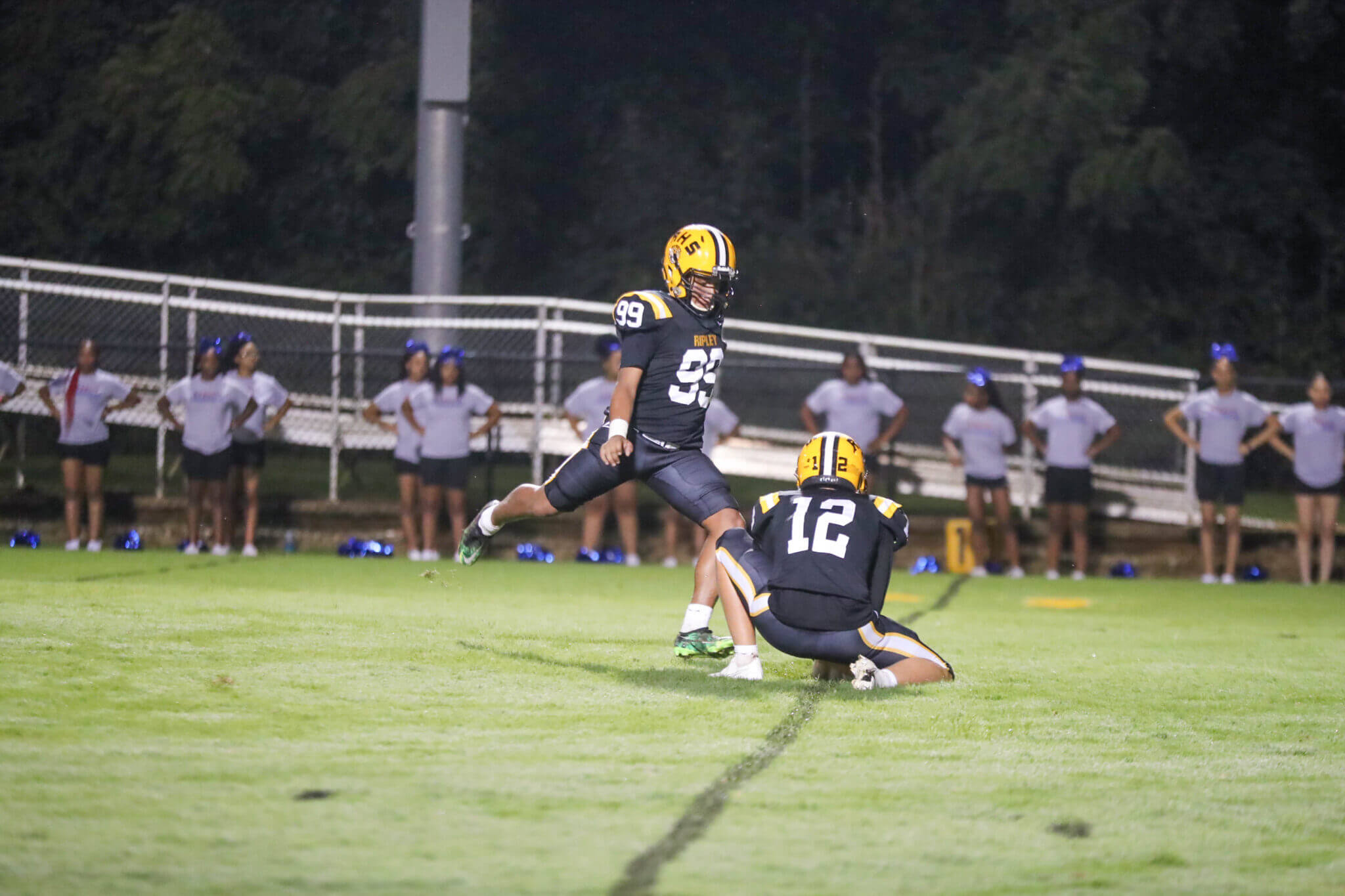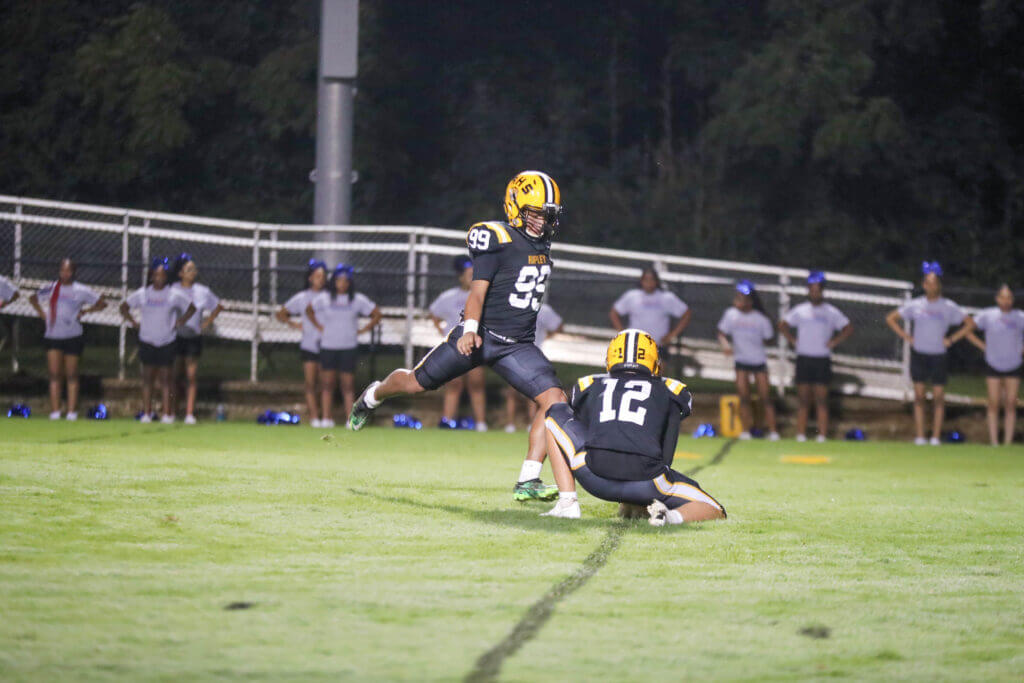 Get To The Point Already
So with all, I wrote how far could the Tigers go? I could leave it at "Well that remains to be seen, so stay tuned to find out." That would be savage, but kinda cool. But I'll answer it with a little more detail.
There are a number of factors that go into how successful a team can be throughout the year. And as I have stated for the record, I would be somewhat shocked if this Ripley team finishes the regular with more than one loss. This week at home to Kossuth, then back-to-back road games at Senatobia and Booneville could be a hiccup or maybe two. And if so, that's fine because it won't derail any future plans. None of those opponents nor the outcomes will play any part in where and what seed Ripley receives to start the Class 4A playoffs…that they have to qualify for first and foremost.
And when it comes to winning a state championship, that's tough to answer this early in the season and not really fair at all.
They'll have to stay healthy. That's not easy, given the fact that football is a contact sport. But I do believe the number of players with experience at Ripley's disposal can help with that.
They'll have to avoid mistakes and execute the game plan week in and week out. And as long as the Tigers keep winning, every single game is the biggest game of the season for the upcoming opponent.
This week is homecoming, an early one against the Kossuth Aggies. That bunch will roll into Ripley thinking there would be nothing better than to hand Ripley its first loss…and on Homcoming. Plus Kossuth players as well as fans are pissed off about taking a hard-fought 21-20 overtime loss to in-county rival Corinth. The Aggies went for the win in the extra period and came up about a foot short.
They'll have to deal with the invisible opponent called "Ego." The more wins the Tigers string together, the more they move into the spotlight in this immediate area and state-wide. With that comes press clippings. Reading those too many times shifts the focus from a family of brothers chasing one common goal could shift to "look at us" and/or "look at me." Thinking like that will ruin a team, no matter the talent or the staff.
And finally, the Tigers will need some blessings, some luck, and some things to fall their way. As I said, winning a state title is hard. I assume you've noticed that Ripley has none and they've been around for a long time. And making a deep playoff run is hard, That's why both instances are so special when they happen.
Maybe this year will be a special year for Ripley. Only God knows. I don't know if I answered your question, "What about Ripley?" But I believe I made a strong argument on why you should consider coming out to watch or tuning in to see for yourself. I promise you won't be disappointed.