Ripley rolls past NE Lauderdale in 4A playoffs
It was a tale of two game for Ripley baseball in their opening round playoff matchup against Northeast Lauderdale, but the outcome was the same and a familir one for the Tigers.
Another year, another first round playoff victory.
The Tigers got the sweep over the Trojans with a 8-3 shutdown victory at home on Friday and a 7th inning hitfest win on Saturday on the road by a 14-11 margin.
On Friday, Freshman Ty Long went the distance for the Tigers, shutting down the Trojans after giving up three first inning runs. Long finished the game with 7 strikeouts as he scattered 9 hits.
Hayden Fortune would lead at the plate in game one with a pair of RBI while Conner Graves and Reed Scott each contributed a double.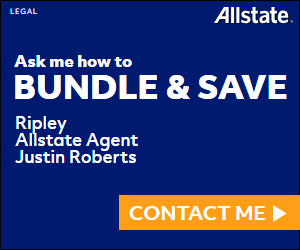 In game two, the Tigers used 13 hits and a trio of 7th innings runs in a tied game to come away with the victory.
Micah Johnston got things started in the 7th with a one out single followed by a Jak Ketchum single and a Fortune double which scored Johnston. Ketchum scored two pitches later on a passed ball which advanced Fortune, who scored on the next pitch on a Reed Scott sac fly. Conner Graves would finish out the scoring for the Tigers on a Reed Shackelford double to left field.
Fortune led at the plate with three hits and a pair of RBI with Ketchum and Shackelford each collecting multiple hits as well.
Johnston drew the start on the mound for the Tigers and re-entered the game in the 7th to close it out. He struck out 7 and walked none.
Ripley is back in action in the 2nd round against Pontotoc. Game 1 will be Thursday at Ripley at 6:00. Game 2 Friday at Pontotoc at 6:00 Saturday:(if necessary) Game 3 in Ripley at 2:00.