Tigers win second half, beat Bulldogs in "Highway 15" Rivalry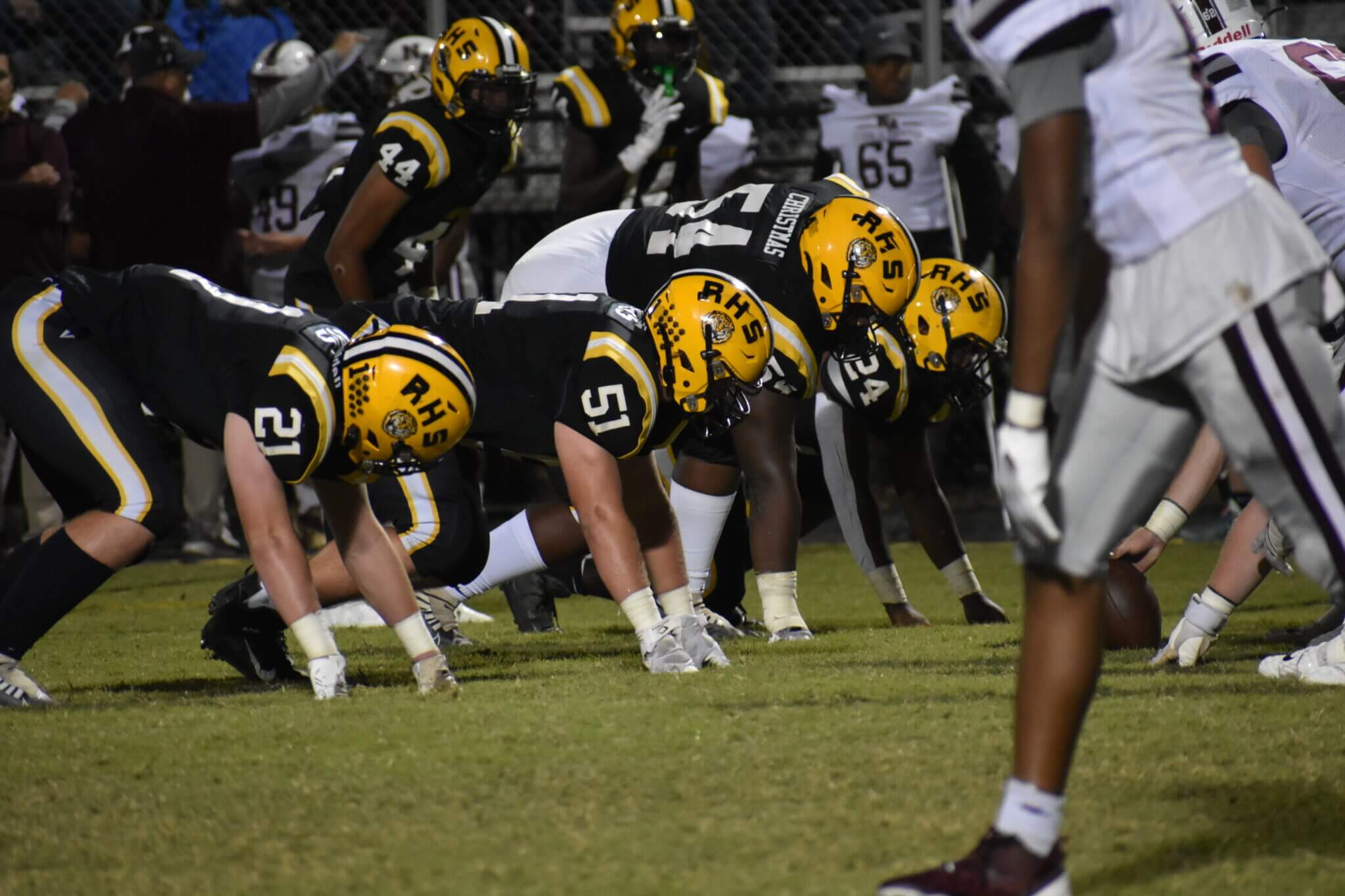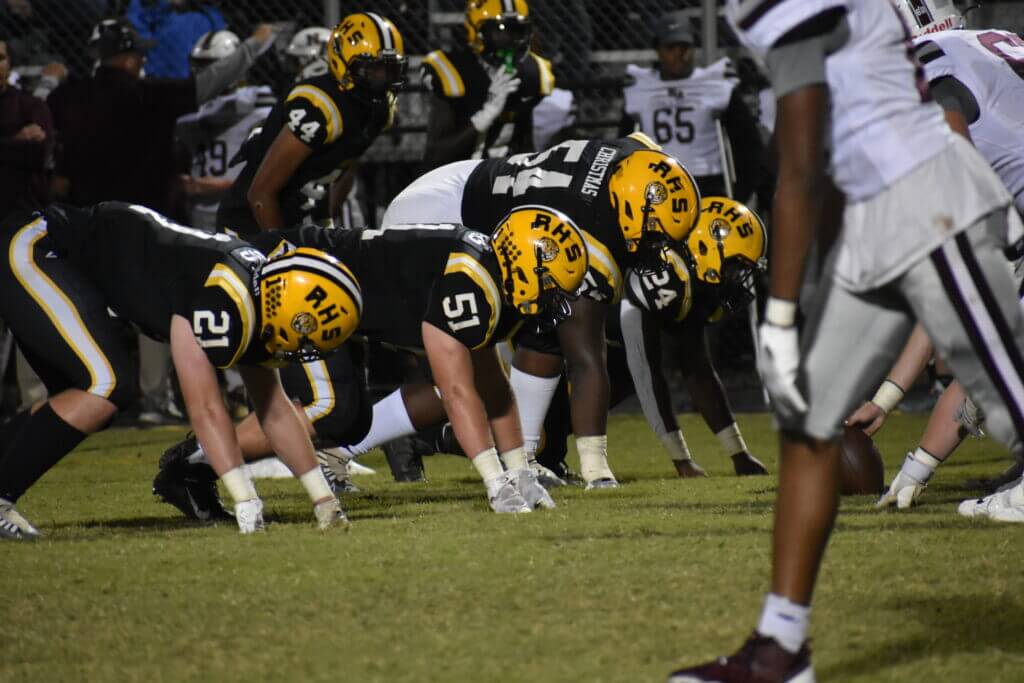 RIPLEY–The sign of a good football team is the ability to adjust. And the Ripley Tigers did just that on Friday in the latest edition of the "Highway 15 Rivalry" against the New Albany Bulldogs.
The Tigers broke a 21-21 halftime score with a field goal in the third quarter. They would add a final touchdown in the fourth and then hold off the Bulldogs for a 31-28 victory.
With the win, Ripley upped its record to 7-0. But even better, the Tigers remained atop Div. 2-4A at 2-0. New Albany fell to 5-2, 1-1.
When asked if Ripley Head Coach Perry Liles saw this type of success before the season started, the third-year Tigers coach said yes.
"I really could," said Liles. "We have a solid defense and that's where it starts. We spent the summer getting our backs ready and our line matured. We've improved over the season but we've got a lot of things we still need to work on."
Back-and-forth first half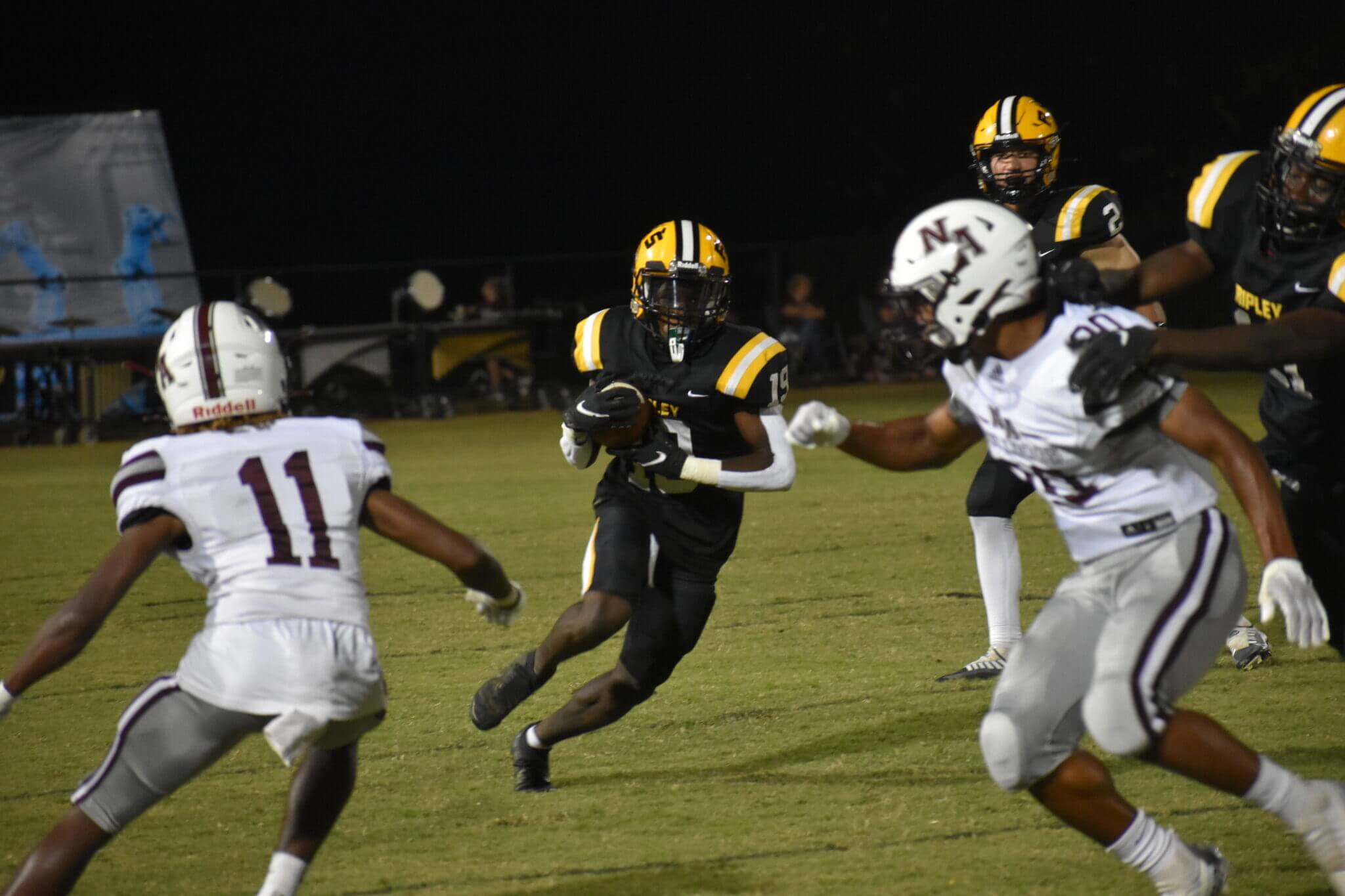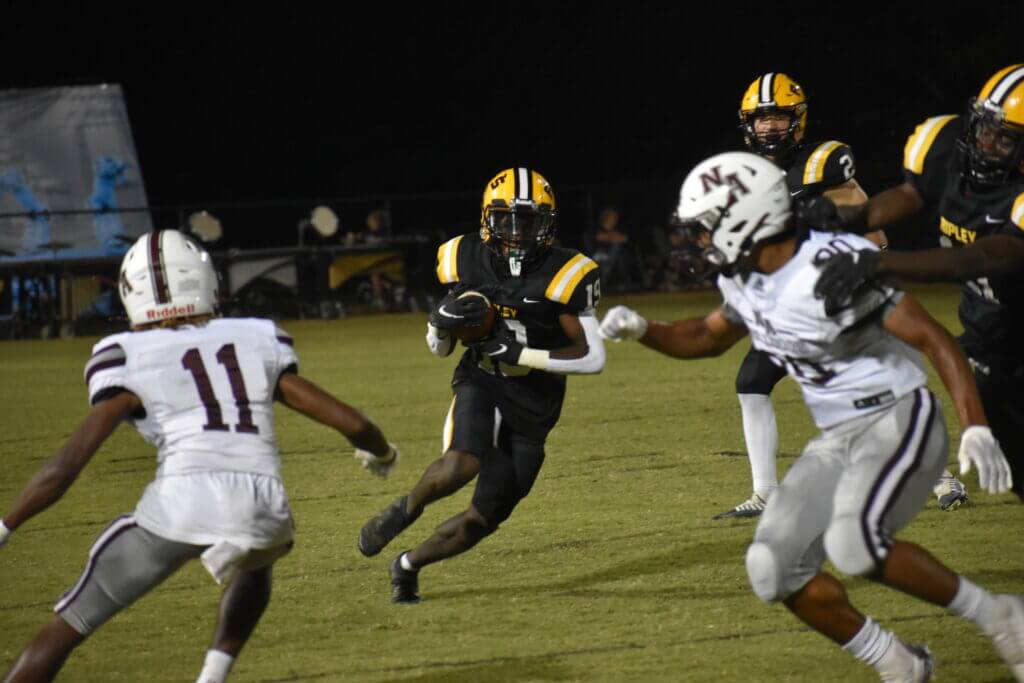 Ripley jumped out to an early 14-0 lead. On New Albany's opening drive, linebacker Jalen Brooks picked off a Braden Shettles pass and raced 55 yards before being tripped up at the goal line. One play later, Brooks scored on a 2-yard run. Following a New Albany three-and-out, the Tigers tacked on a second score, as Ty Long found Michael Turner for a 46-yard catch-and-run TD.
That lead would quickly evaporate as New Albany found success throwing to running backs in open space. Pinned at their own 8-yard line to start the second quarter, Armand Bowling snuck out the backfield, hauled in a pass from Shettles, and sprinted down the New Albany sideline for an electric 92-yard scoring run to quiet a loud Ripley crowd and trim the lead to 14-7. A series later, the Bulldogs stuck to that script. Shettles passed to running backs the length of the field and Inside Ripley territory, the junior found a wide-open Bowling who broke a pair of tackles on his way to a 36-yard score, his second of the game.
The teams traded scores over the last five minutes. Long found a wide-open Cooper Davis for a 26-yard TD, while New Albany drove 71 yards in six plays, capped by a Cody Atkinson 4-yard TD run. The teams headed to the locker room tied at 21.
On New Albany's success against a quality Tigers' defense, Liles said the New Albany staff did a good job of taking what they were giving them.
"A lot of times we give up the flats and they took advantage of that," Liles said. "They did a good job for running playing action towards our linebackers, making them take the run. Then they would throw it to the back who was blocking. It was a good little scheme."
Halftime adjustments
Liles said the halftime message was simple, "Win the half."
"We told them don't be afraid to win," said Liles. "They (New Albany) brought all they had just like I told them (Ripley) they would. New Albany didn't quit. And I told our guys we can't be afraid to win. We've got to win this half. We came out and went up by 10 and that sorta set the tone."
The Tigers opened the half with a 6-minute drive. It stalled at the New Albany 24-yard line, but they got points as Freddie Lopez nailed a 39-yard FG.
Defensively, the Tigers adjusted their normal 4-3 alignment to a 3-4, basically taking away all the success the Bulldogs found in the first half to enter the final quarter with a 24-21 advantage.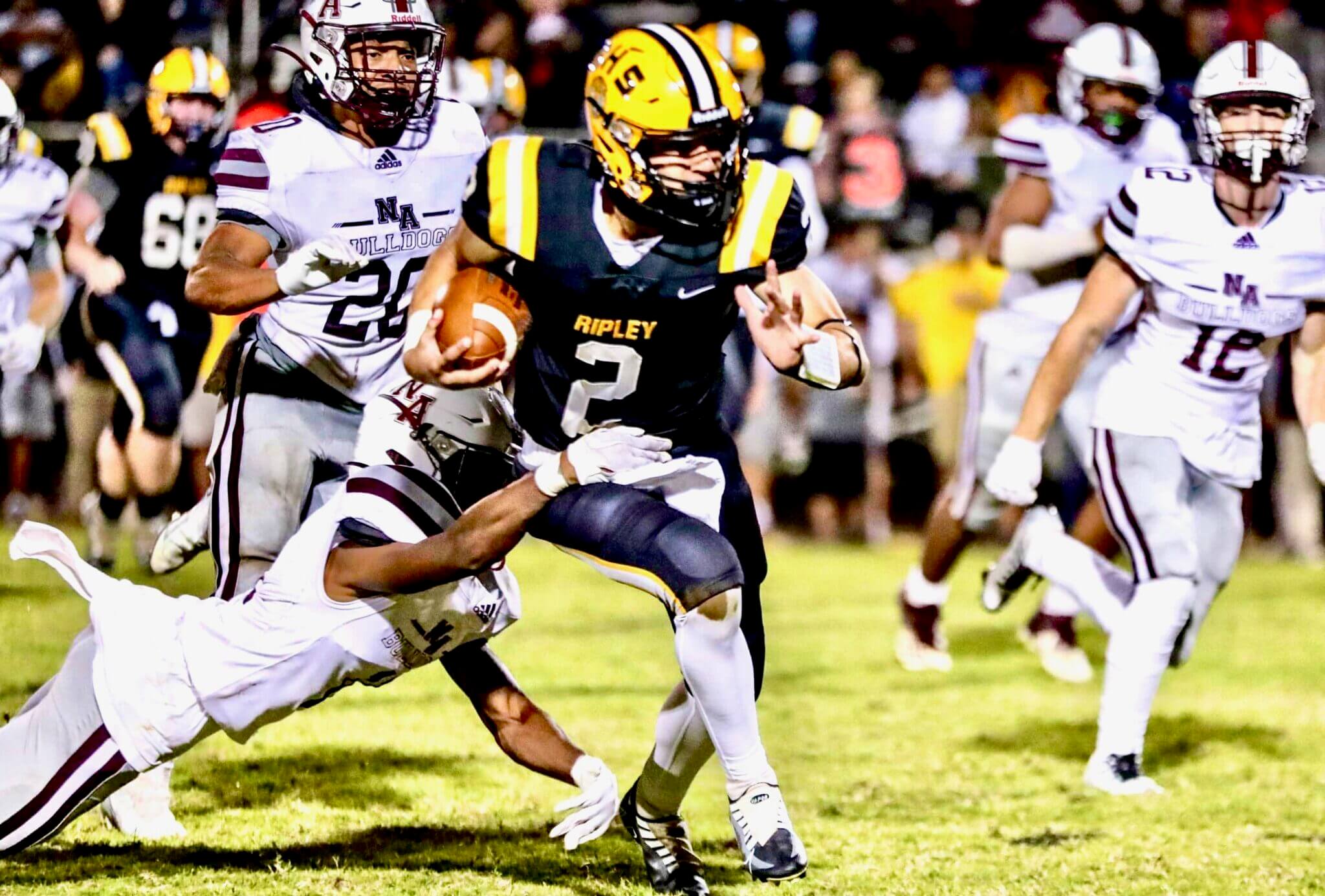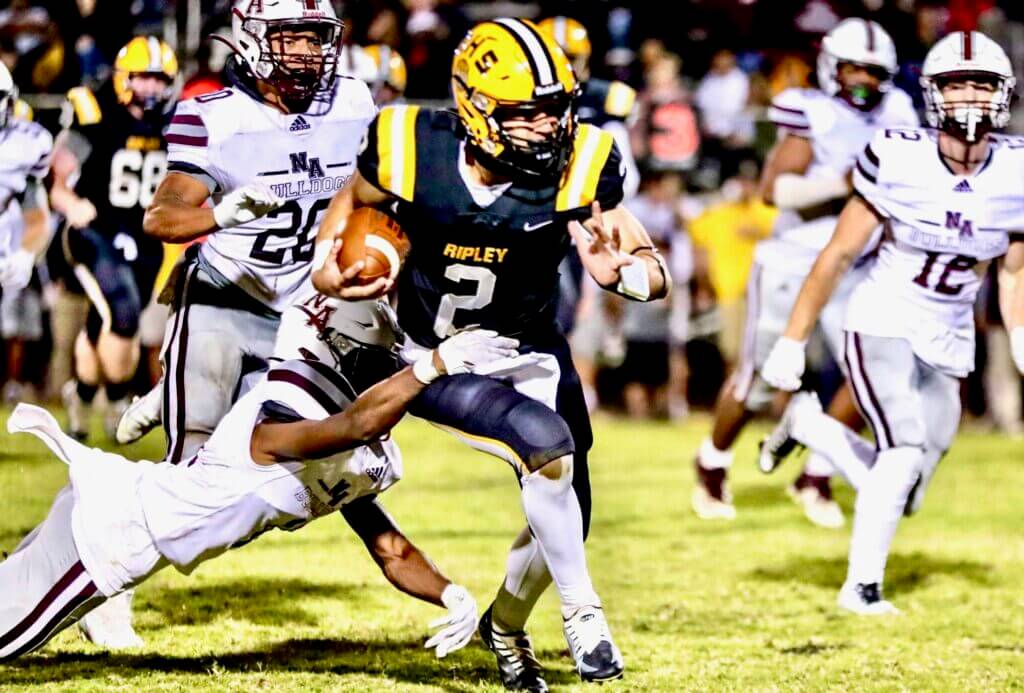 Early in that fourth, had two turnovers, a muffed punt and a failed attempt at a fake punt. Following the latter, Long directed a 49-yard drive, connecting with Turner from 18-yards out for a 31-21 lead.
The junior quarterback was just 3 of 7 for 87 yards, but all three completions went for scores. Besides the two touchdown strikes to Turner, he connected with tight end Cooper Davis for a 23-yard score in the first half.
Long's 11-yard scamper off an option play on the Tigers final drive gave them the final first down to put the game on ice.
"He's a winner," said Liles. "We didn't throw it a lot tonight because we wanted to take what the defense was giving us, but he ran the option well tonight. Those were some plays we've practiced all season but haven't ran all year. It worked out well for us tonight."
With the win, Ripley is now 7-0, 2-0 in Div. 2-4A. New Albany falls to 5-2, 1-1.
Stat Lines
—New Albany quarterback Braden Shettles was 11 for 21, 303 yards, two touchdowns and one interception. The junior threw for 222 of those yards in the first half, aided by a pass that led to a 92-yard TD.
–Ripley outgained New Albany 183-19 in rushing. The Tigers had six different ballcarriers. Three of those, Keegan Strong, Jaylen Brooks and Keegan Colyer all finished with 57, 56 and 54 yards, respectively.
–New Albany running back Jareil Bowling had a career night, but as a receiver with four catches for 157 yards and two scores.
–Junior wide receiver Michael Turner made the most of his two catches, scoring on both with a total of 64 yards. Turner leads all Tigers receivers with a whopping 24 yards per catch and five touchdown receptions. On the opposite side of the ball, Turner leads the Tigers with six interceptions.