Pitney Leads the Way as Walnut Topples Falkner in Joe Bowl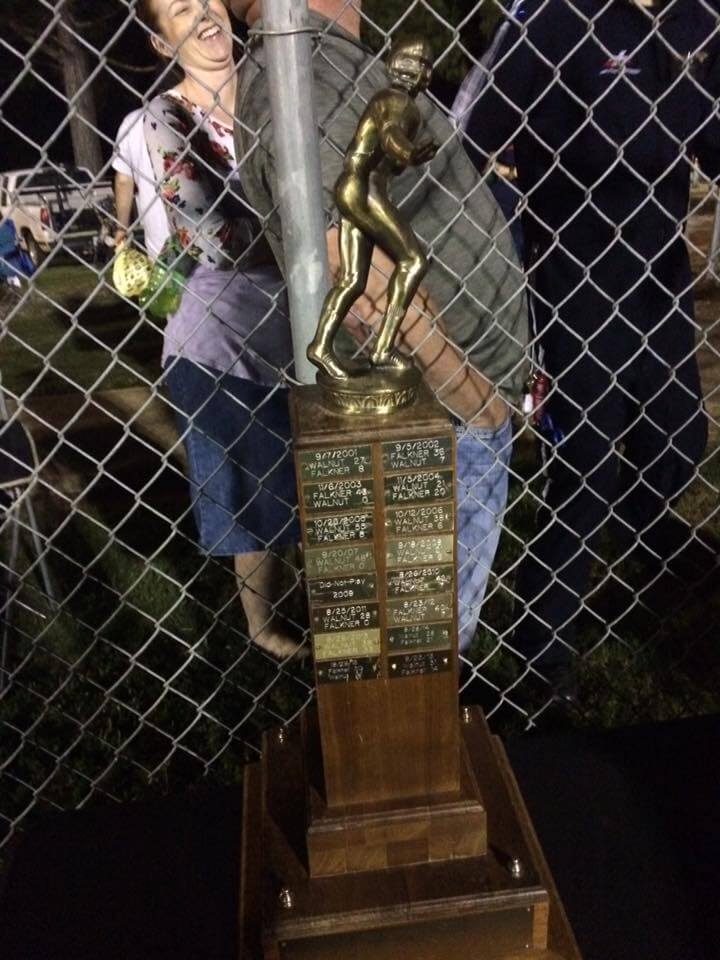 FALKNER–Walnut head coach John Meeks said if he had more players like senior Drew Pitney, his life would be a lot different.
"Drew Pitney is the ultimate player. If I had 11 Drew Pitney's I wouldn't have to do anything but just call any play  because it would work," said Meeks following the Wildcats 30-12 win over the Falkner Eagles on Thursday.
The senior RB/LB made huge contributions on offense and defense to help push Walnut  past Falkner in the 16th  Joe Bowl between the North Tippah schools. Pitney had 94 yards rushing with two touchdowns. He threw in a pair of two 2-point conversions, had 12 tackles and also halted a Falkner scoring drive with an interception in the end zone.
"That kid pours his heart and soul into every single thing he does," added Meeks.  "If I could find a way to make everybody else act like that, I'd make a little bit more money."
His 9-yard TD run in the second quarter gave Walnut (2-0) a 14-0 lead. A 13-yard scamper in the fourth made it 30-6.
Pitney made the most of his final game against Falkner.
"First of all, I want to give all the glory to God," he said. "If I feel like I can do something, I want to always do my best. I don't want to have any regrets.
"Coach Meeks always talks to us about looking back when you get older. I don't want to look back and say, 'I could have went harder here. I could have done this better.' I know I make mistakes, but I want to do it going 110 percent."
Holding down Caldwell
Walnut limited Eagles senior running back Alex Caldwell to 90 yards on 24 carries. He had a 1-yard TD in the final frame to go along with a 1-yard score by quarterback Autry Windham in the first half.
Stopping Caldwell, who rushed for 1,870 yards last season, was the top priority according to Meeks.
"Alex is heck of a player. You watch film and he's the No. 1 guy. You've got to stop Alex to be able to win the game,"said Meeks. "All week, we had three guys who wore number 23 and wherever they were our defense had to go find him. We put a great emphasis on where he was and where is he lined up because that dictates what they do with it."
Not pretty
Execution wise, it was an ugly game. The teams combined to commit 11 turnovers, five by Walnut. Both squads were held under 250 total yards with the Wildcats edging the Eagles 247-213.
Individually, Falkner's Windham had 140 yards passing on 9 of 30 completions, including a 67-yard catch-and-run to Caldwell. Walnut's Wesley Cox and Kylan Story had rushing scores for Walnut in the first half. That duo also combined for 26 tackles on defense, 16 by Story, who added an interception and a pair of tackles-for-loss.
It was the second consecutive Joe Bowl win for Walnut. They have taken nine of the last 11 meetings. Falkner last won in 2015. That season, Pitney out with an injury and could only watch.
"All day…I was nervous. I was trying to get extremely focused. It really means a lot to me," Pitney said.  "I got sidelined my sophomore year and couldn't play. We came here and lost. it felt so good to just get back here and get a W for the school, for the town and for my teammates.
Falkner hosts Potts Camp, next week, to begin their Division 1-1A slate. Walnut hosts H.W. Byers.