Tigers survive miscues, defeat Aggies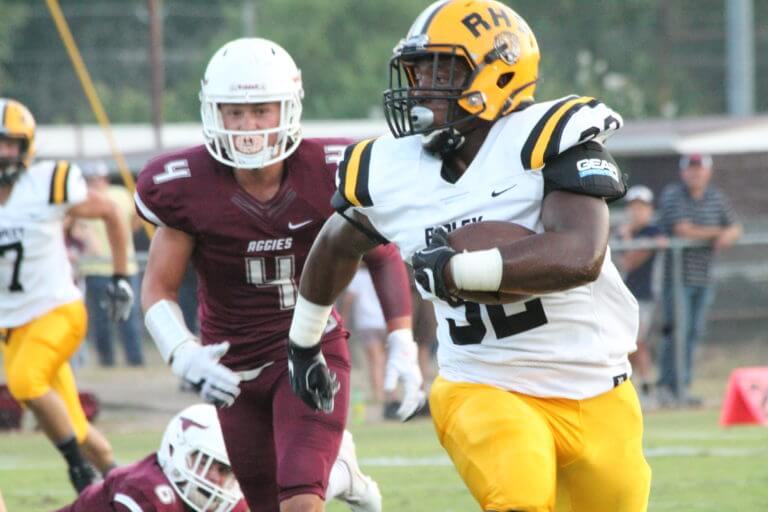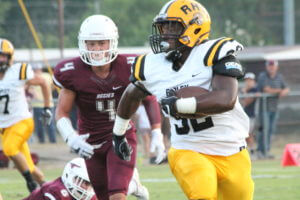 KOSSUTH–Last week, when things went bad for the Tigers, there was no response. This week things were different on the road at Kossuth.
Facing a 20-17 hole with 1:48 remaining, Ripley got a fourth down stop and took over at 50-yard line. Facing a third and long, the Tigers got a big 46-yard run from junior running back Jamal Brooks to set up 1st and Goal at the Aggies 3-yard line with 51 seconds to play. Two plays later, senior Trey Blanchard took a snap and barreled in for what would be the game-winning score.
Kossuth had taken the lead on 68-yard fumble return earlier in the quarter. Ripley coach Sam Hathorn said that was the difference in a Week 1 loss and Friday's 24-20 victory over the Aggies was bouncing back from tough breaks.  
"The difference in last week and this week is that our kids responded to adversity," said Hathorn. "Last week when something bad happened, we kinda just let it happen. This week, when something bad happened, we really responded. The guys that needed to make plays made them tonight. That's the difference in the game."
Two of those players were Brooks and Blanchard. Brooks dominated both sides of the ball, making stop after stop on defense and rushing for 195 yards on 17 carries and two scores for the offense. His 22-yard TD run gave the Tigers an early lead. He added a 10-yard scoring run in the second quarter for a 17-7 halftime advantage.
Blanchard added 93 yards rushing, as Ripley totaled 386.
"The best friend to a new quarterback is a good running game," said Hathorn who is breaking in junior transfer Tristian Vandiver under center.  "And we've gotten better each week. Tonight, Jamal, Landis and that offensive line, along with Trey all played really well."
Ripley pulled off the victory game despite committing 20 penalties for 187 yards and committing four turnovers, a pair of fumbles and interceptions. However, holding Kossuth to 208 total yards took the sting out of those numbers.
"We really worked them hard in practice this week to prepare them for situations like that," said Hathorn. "We really rode them and they responded. Here was an example and you've got to keep fighting and that's what happened."
What's Next:
On Friday, Aug. 31, the Tigers travel to Calhoun City.